Seriously, there is so much going on this past week. I attended the
Farmer2Farmer conference
at the
Saanich fairgrounds,
which was a great day, which I really want to talk at length about, and which left me with some hope. But that will have to wait for another post.
Pink slime--mechanically seperated lean beef that 's been treated with ammonia--is still around.
Reuters is carrying a
special report
(.pdf) on Beef Product Inc.'s lawsuit against ABC, Diane Sawyer and others on their reporting of the use of "lean finely textured beef" in ground beef products like hamburgers. The suit has all the earmarks of a SLAPP (Strategic Lawsuit Against Public Participation) suit, particularly with the potential damages heading north of a billion dollars.
The lawsuit, originally filed in South Dakota state court, is hinged partly on a state product-disparagement statute designed to protect farming interests. Twelve other states have similar laws - dubbed "veggie libel" measures by critics - but they have rarely been invoked.

Under the South Dakota version of the law, plaintiffs must show that defendants publicly spread information they knew to be false and stated or implied "that an agricultural food product is not safe for consumption by the public."

If BPI were to win on that claim, under the law it could be awarded triple the damages that were caused. That means that the company's claim of more than $400 million in projected lost profits could balloon to damages of more than $1.2 billion.
But you can see why they feel they have to silence criticism--BPI has gone from 4 plants and about $650 milliion (US) in revenue to 1 plant and about $130 million (US) in revenue. And, as usual, buy direct from a farmer--make sure they get whatever profit's to be made and have the security of knowing where your food comes from.
NewsRx Science is reporting
on the potential for urban agriculture in one of the US' most depressed cities: Detroit.



Transforming vacant urban lots into farms and community gardens could provide Detroit residents with a majority of their fruits and vegetables.

As city officials ponder proposals for urban farms, a

Michigan State University

study indicates that a combination of urban farms, community gardens, storage facilities and hoop houses - greenhouses used to extend the growing season - could supply local residents with more than 75 percent of their vegetables and more than 40 percent of their fruits.

The study, which appears in the current issue of The Journal of Agriculture, Food Systems, and Community Development, evaluates many aspects of the production potential of the Motor City's vacant properties, from identifying available parcels of land to addressing residents' attitudes toward blending agrarian traits with their urban lifestyles.

"What's clear from our production analysis is that even with a limited growing season, significant quantities of fresh fruits and vegetables eaten by Detroiters could be grown locally," said Kathryn Colasanti, the graduate student who led the study for the C.S. Mott Group for Sustainable Food Systems at MSU. "And investments in produce storage facilities and hoop houses would increase this capacity substantially."



Now we just need some political will. CBC is reporting that Sudbury's city planning staff is getting onboard, but the councilors are dragging their heels.
It is just an idea at this point — and something many other cities are considering — but city Coun. André Rivest said right now his vote would be a no.
"You got houses that are worth a lot of dollars and you want to keep that," he said.
"You start having chickens in backyards ... I sense that wouldn't be well received."
But city planner Kris Longston said Sudbury's long-range plans should focus more on urban agriculture.
You can listen to the
report here
.
And that's the problem, innit? Political will.In a city you have to be willing to stare down local developers--who carry a lot of political and financial weight. And the ability to scare the public with the thought that the value of our homes may decrease. Canadians have become utterly reliant on their homes as their savings accounts--and on increasing home prices fueling consumer purchases--so any threat to house prices threatens the entire myth that we currently function under. The question of just who is expected to pay inflated prices for houses when all the boomers decide to retire isn't one that gets asked--because there is no real good answer. Wealth inequity is becoming more and more pronounced in Canada, and the middle class is starting to lose people off the bottom. The Fear, as Hunter Thompson used to describe it, is starting to set in.
Duncan Jones, the talented director of
Moon
and
Source Code,
tweeted this picture a few days ago: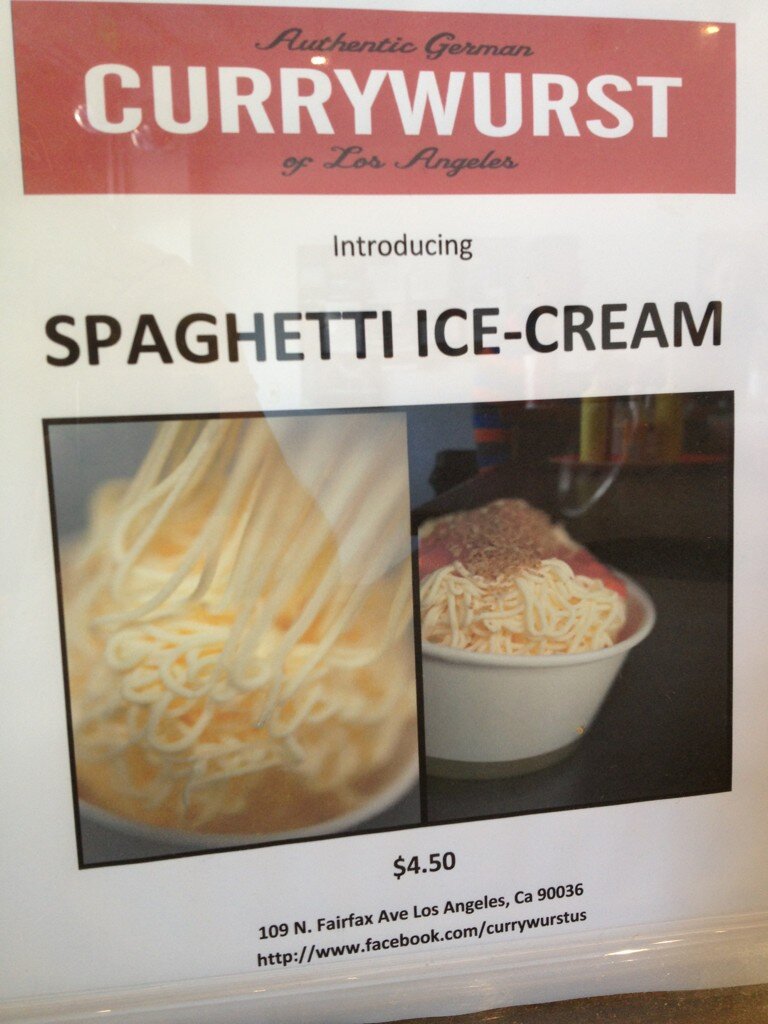 image via twitter
He apparently found it funny to ask what part of Italy the spagetti was native to. I have to agree--that would be funny.Except maybe to the
Currywurst
waiter for the thirtieth time....
As was noted at the
Farmer2Farmer conference
, farmers can make a living selling locally. Science Daily reports on a new study:
Farmers can make a profit selling their produce directly to local businesses, but they must not let possible new costs weaken their commitment to the new venture, according to an international team of researchers. "We found that the farmers who really made a conscious decision to sell local and who made more of a commitment tended to do better than those who are just testing the waters with local direct selling," said Amit Sharma, associate professor of hospitality management, Penn State.
Sharma added that farmers who were only testing the idea of selling to local restaurants tend to either never try to reach the local market, or quickly opt out of local selling.
The researchers, who report their findings recently in the Journal of Agriculture, Food Systems and Community Development, said that farmers face a number of higher costs when they sell to local restaurants and shops, especially locally owned businesses that are not associated with national chains.
The added costs include money for additional marketing and transportation and delivery costs.
Costs can also increase when local businesses require special packaging, according to Sharma, who worked with Catherine Strohbehn, extension specialist and professor of apparel, events and management, Iowa State University; Rama B. Radhakrishna, professor of agriculture and extension education, Penn State; and Allan Ortiz, lecturer, University of Costa Rica.
The
San Francisco Gate is reporting
on a less usual method of raising funds to build a supermarket in a food desert:
A group of community leaders and business people have taken matters into their own hands with plans to build a full-service grocery store, the People's Community Market, in a vacant lot at the corner of West Grand Avenue and Market Street. But the entrepreneurs, headed by Brahm Ahmadi, are using a nontraditional method to raise funds.
They're selling stock in the supermarket on the People's Community Market website without using an underwriter. The method, known as a direct public offering, was used by companies such as Ben & Jerry's ice cream, Annie's Homegrown foods and Costco when they were still fledgling businesses, and it is growing in popularity.
So far Ahmadi, the founder and former executive director of the nonprofit People's Grocery, has raised $240,000 from investors who are disillusioned with Wall Street and want to put their money toward building a better community.
The Nation addresses the problem of hunger in America in an exploration of the issues raised by the new film
A Place at the Table
and
American Winter
.
Table's stories will overwhelm too. Whether it's the fifth grader who is so hungry that she envisions her teacher as a banana and her fellow students as apples, or the single mother of two who finally gets a fulltime job only to realize that she is no longer food stamp eligible, a loss of $3-per-day that puts her family into serious food insecurity. That means her kids no longer have breakfast or lunch at daycare, and her youngest is already developmentally disabled due to improper nutrition. Lest we think she's living large off her new job, food stamp eligibility ended once her salary passed $23,000, a figure hardly sufficient to pay for rent, utilities, insurance and transport, let alone food. (Most Americans are surprised to learn that the parents of hungry children typically have fulltime jobs.) Those who think food stamps breed dependency are wrong. As a child, raised singly by my mom after my dad died early, I too depended on food stamps. For many of us, they are critical lifelines of support while we get back on our feet. [...] So what's the hang-up? Why is it so difficult to feed America's future properly? When all expenses are accounted for, we spend roughly $1 per child per school meal. One wonders why President Barack Obama couldn't get the $10 billion over ten years that he wanted to improve childhood nutrition in schools. (Contrast this with the $10 billion we spend monthly on our military in Afghanistan.) In fact, Obama was only able to get $4.5 billion allocated—improving by .06 cents what we spend on children's lunches—and much of that was paid for by siphoning money from the food stamp program. The irony.
The Food Research and Action Center is addressing the same problem
.
One in four Americans is worried about having enough money to put food on the table in the next year, according to a national hunger survey by Hart Research Associates, commissioned last month by the Food Research and Action Center (FRAC) and Tyson Foods, Inc. (NYSE: TSN). Another key finding is that many Americans are unaware of how serious hunger is in their own communities.
The online survey was initiated as part of Tyson's "KNOW Hunger" campaign, which is focused on helping more people understand and actively address the problem of hunger in the U.S. The survey found that 24% of respondents indicated they are very or fairly concerned about being able to afford food at some point in the next year, while 31% are slightly worried.
The survey, which is one of the largest and most comprehensive ever conducted on attitudes and perceptions of hunger, also revealed that many Americans may be underestimating the seriousness of hunger in their own community. Two-thirds of the people surveyed rated hunger as a more serious problem nationally than in their own community. Yet according to a report published in 2010 by the U.S. Department of Agriculture's (USDA) Economic Research Service, 14.7 % of American households are food insecure at least some time during the year, the highest recorded levels since 1995, when the first national food security survey was conducted.
All Things Considered aired a report from one of their younger corespondents. You can
listen to it here
. It concerns what kids are really eating as opposed to what their parents think they're eating.
Deborah Richards from Oakland, Calif., thinks she has a handle on her son Donta's eating habits.
"He's fussy but he eats healthy," she says. "He eats healthier than me."
But Donta doesn't think so. "I know for a fact I don't," he says. "My breakfast, I can say on the daily, is a pack of Skittles. I make sure I get one every morning."
Enlarge image

Brett Myers

/

Youth Radio
"Skittles?!" gasps Richards. "I try to teach him better!"
Richards isn't alone. According to the poll, 87 percent of parents report their children are eating healthfully. But do parents really know what their kids — especially older kids — are eating?
Not according to high school senior Felix Pieske, from Portland, Maine.
"Middle school might have been the last time that I really talked to my parents about like, 'Oh, what did you eat today?' " he says.
But do we really know what we're eating?
Reuters is reporting
a step in that direction:
Whole Foods Market Inc will require all products sold in its U.S. and Canadian stores to carry a label by 2018 saying whether they contain genetically modified organisms (GMOs), the organic and natural grocery seller said on Friday.

Whole Foods said the prevalence of GMOs in the United States, coupled with a lack of labeling requirements, has made it very difficult for retailers to source non-GMO options and for consumers to identify them.
"We are stepping up our support of certified organic agriculture, where GMOs are not allowed, and we are working together with our supplier partners to grow our non-GMO supply chain," Walter Robb, co-chief executive of Whole Foods, said in a statement.
The United States does not require safety testing for genetically modified ingredients before they go to market. The food industry says the products are safe, but critics say there is a not enough independent research to make that determination.

And even when it seems clear that we know what we're eating, there might be problems.
Food Safety News reports
:
Both Bumble Bee and Chicken of the Sea tuna brands have expanded their recalls first announced on Wednesday due to problems with the seams on their can lids not meeting safety standards.
Bumble Bee's recall now includes 5-ounce chunk white albacore and chunk light tuna products distributed to retailers between Jan. 17 and March 6, 2013. See the full list of recalled Bumble Bee products here.
The recall on Chicken of the Sea products has similarly expanded its albacore recall to now include 5-ounce chunk light tuna in oil products distributed between Jan. 23 and March 6, 2013. See that full list here.
The best-by dates on recalled Bumble Bee products range from Jan. 14, 2016 to Jan. 18, 2018.
The best-by dates on the Chicken of the Sea products range between Jan. 15 and 18, 2017.
Here in Canada, we just
sell stale-dated items to the general public
. And better labelling practices? An anathema to our Conservative Stephen Harper government. From the Globe and Mail:
The Canadian government is warning Washington it may retaliate if the U.S. brings in a new, more restrictive trade rule on how beef and pork product exports are labelled.
The U.S. Department of Agriculture proposal announced Friday calls for foreign producers to list on the package of meat products where the animal was born, raised and slaughtered, as well as other packaging restrictions.
"The proposed changes will increase the discrimination against exports of cattle and hogs from Canada and increase damages to Canadian industry," Canada's Agriculture Minister Gerry Ritz said in a news release from Ottawa.
The U.S. said the new rule would help it comply with a World Trade Organization decision last year that found its country-of-origin labelling regulation discriminated against Canada and Mexico.
The Canadian government has said one year after that regulation was imposed by Washington in 2008, shipments of Canadian cattle into the U.S. dropped by half and exports of slaughter hogs declined by 58 per cent.
Of course, consumers being allowed to chose where they want their products, food or otherwise, to come from, is against everything held holy by our government. And before Canadians get too high and mighty about the quality of our meat, remember that during the BSE crisis, the Conservative government of Ralph Klein refused to allow the construction of an abattoir that was planning to guarantee BSE testing of every animal that went through it. Because it would reflect badly on companies like Tyson Foods that they wouldn't make that guarantee.
And in the UK, the government is back-tracking,
according to the Guardian
, on the creation of 127 Marine Conservation Zones to help protect stocks from overfishing. The number proposed now stands at 31. Because 127 is just too expensive--and it keeps business from vacuuming the sea until it's thoroughly empty.